Think about the animated films that have transported us into a world where toys come to life when humans aren't looking; surely, the enduring Pixar creation, Toy Story, comes to mind. Our hearts were captivated by this beloved franchise right from our introduction to Woody, Buzz Lightyear, and co in 1995, and they've held a spot in the Animation Hall of Fame since then. Now, thanks to the creative prowess of the talented @think.scott, you can integrate a piece of this spectacular film and its characters into your everyday life with the custom-designed What The "Toy Story" Nike Dunk Low sneakers.
RELATED: The Air Jordan 1 High "Día de Muertos" Is Nothing Short Of Amazing
The masterful design of these sneakers harks back to the first Toy Story film, where the story of Woody, a cowboy doll who suddenly finds himself in the shadow of space-toy newcomer Buzz Lightyear, unfolds. Left behind in their old home, Woody and Buzz have to put aside their rivalry to navigate their way back to their beloved owner, Andy. They are also tasked with evading Sid, the frightening neighbourhood bully.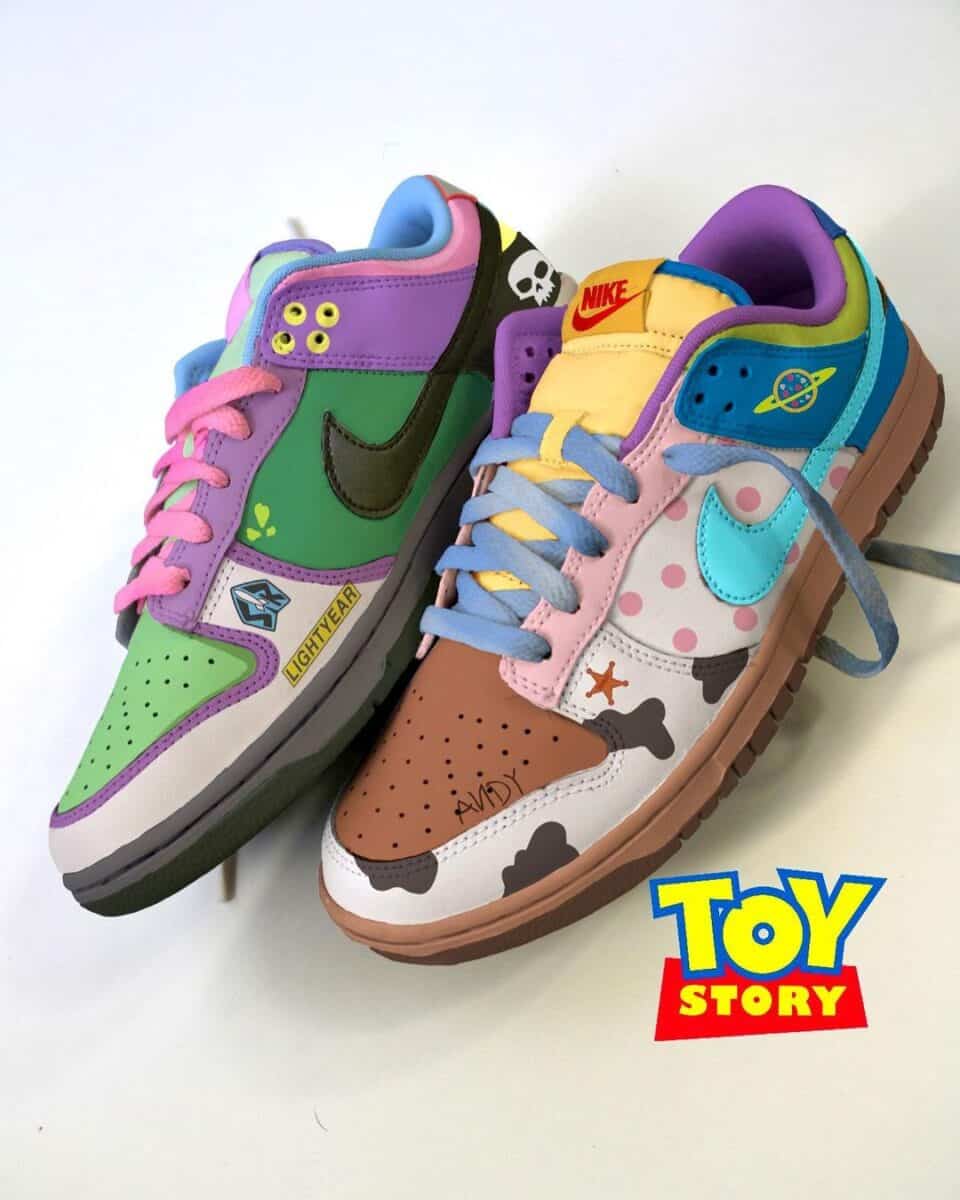 Throughout these thrilling encounters, we meet a host of unforgettable characters, many of whom find representation in this gorgeous split shoe "WHAT THE" sneaker design. The pair is a delightful melange of colours and textures, showcasing the enchanting and diverse world of toys that the movie brings to life.
Let's begin exploring the left sneaker. A delightful mix of Woody, Bo Peep, and the lovable alien toys from Pizza Planet (I can practically hear their synchronised oohs) can be found on this foot. The lovely Bo Peep's signature pink polka-dot dress comes to life in the quarter panels, while the eye-stays borrow from her pretty pink hat. The Swoosh then dazzles with a stunning blue that mirrors her staff, a nostalgic reminder of her original look before her daring outfit change in the later part of the series.
The unforgettable Aliens lend their vibrant green, blue, and purple hues to the collar, ankle flap, and shoe lining. Their trademark planet pattern even adorns the ankle.
RELATED: Did Toy Story Really Drop An F-Bomb?
Our favourites. Available now at Nike.com
Of course, Woody's iconic look is the principal inspiration for many design elements on the shoe. His statement cow print vest takes over the toe and mudguard, and the colours of his shirt and jeans make their appearance on the tongue, branding label, and laces. In honour of the infamous 'Andy' written on Woody's boots, the same can be found etched on the brown toe box. The shoe wraps up design elements with a light and dark brown midsole and outsole that echo Woody's look.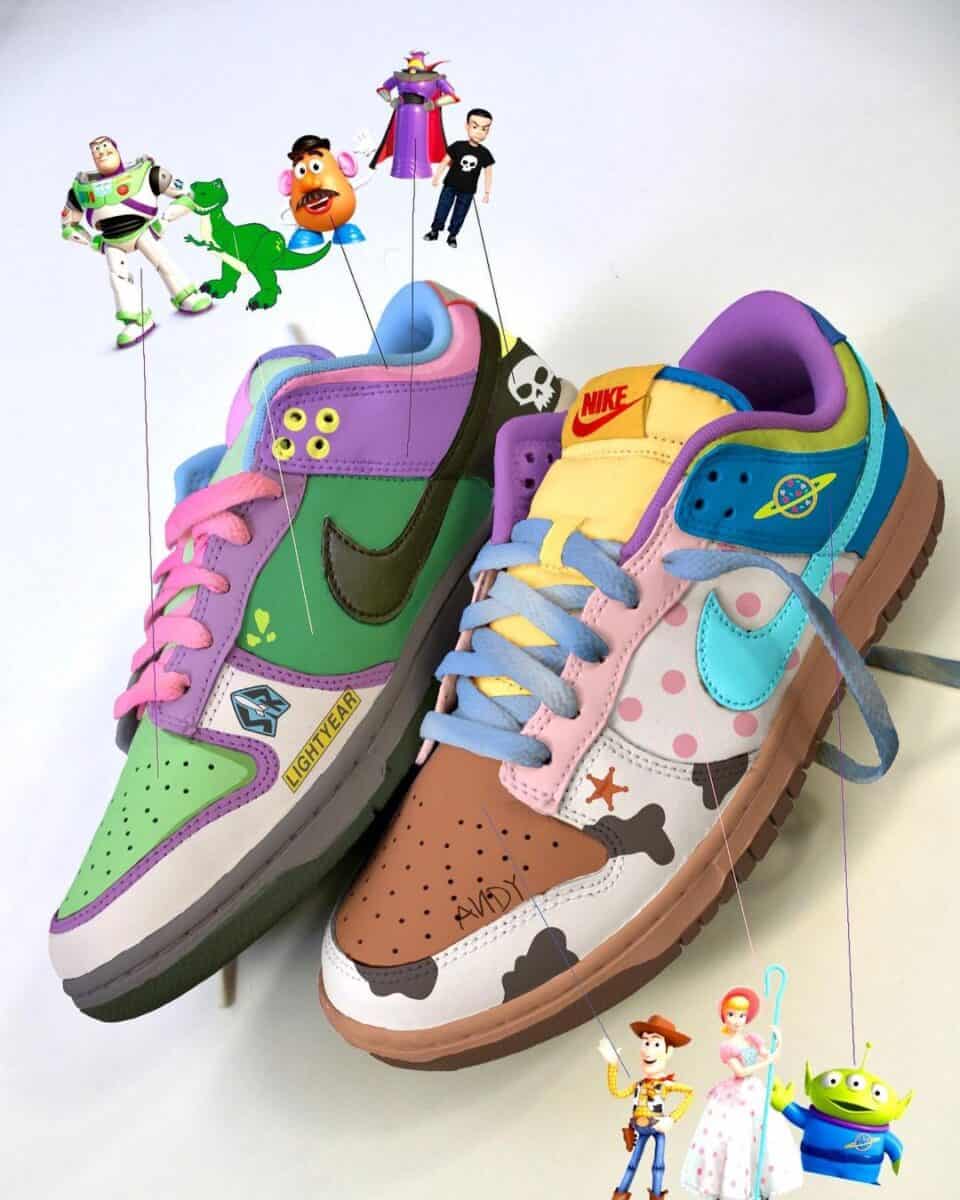 Now, on to the right sneaker where Buzz Lightyear, Rex, Mr. Potato Head, Zurg, and Sid come alive. Sid's instantly recognisable white skull graphic on a black shirt claims the heel with a matching black Nike Swoosh. Zurg's regal purple then finds a place on the ankle flap, and eye-stays. For those who don't remember Zurg, he is a character from the franchise who is Buzz Lightyear's arch-nemesis. He wasn't actually seen in the first film, but Buzz does mention him here and there.
The collar, lining, and laces are tastefully decked in the pink and blue shades from Mr. Potato Head's ears and shoes, while Rex's striking green colour reigns supreme on the quarter panels. And, of course, the man we have all been waiting for – Buzz Lightyear – has his iconic spacesuit design grace the tongue, toe box, and mudguard complete with his Lightyear logo. The shoe is then finished off with a grey midsole and black outsole inspired entirely by Zurg.
These fascinating What The "Toy Story" Nike Dunk Low sneakers are a delightful mix of some of the most iconic characters from the Toy Story franchise and will be available for purchase in late November- although specific dates are not mentioned. If you'd like to own a pair, you can contact @think.scott directly or check out the variety of designs feature on his online store. And, as always, stay tuned to our space for more exciting custom-designed sneakers and concepts!
RELATED: These Nike Air Force 1 x Tiffany & Co. Custom Sneakers Are Perfect
Would you be excited to sport these What The "Toy Story" Nike Dunk Low sneakers?