When it comes to unpredictability laced with a sprinkle of chaos, one name tops the list – the Joker. Add into the mix an equally colourful character with her wild and unchecked personality, and you've got a pair that epitomises the unconventional. Yes, you've got it. We're diving into the world of the iconic DC Universe villains, the Joker and Harley Quinn. Their distinct style is our muse for a bold and daring concept sneaker that captures the essence of their twisted love story. Say hello to the Air Jordan 1 Mid "Joker and Harley Quinn" sneakers, which I will take the liberty of dubbing the "Mad Love" sneaker.
RELATED: Level Up With The Air Jordan 1 Mid "Tron" Sneaker
The sneaker concept draws inspiration from the infamous 2016 Suicide Squad film, where the Joker (Jared Leto) and Harley Quinn's (Margot Robbie) chaotic relationship is fully displayed. As bad as this version of the film was (Still waiting on the Ayer Cut), we were all captivated by the mesmerising chemistry between these two iconic characters. He is a psychopath with a twisted sense of humour, while she is a wild and unpredictable femme fatale. Together, they create a toxic yet irresistible bond that has become a symbol of unconventional love. This film showcases their unique personalities and the intensity of their love, which is both passionate and destructive.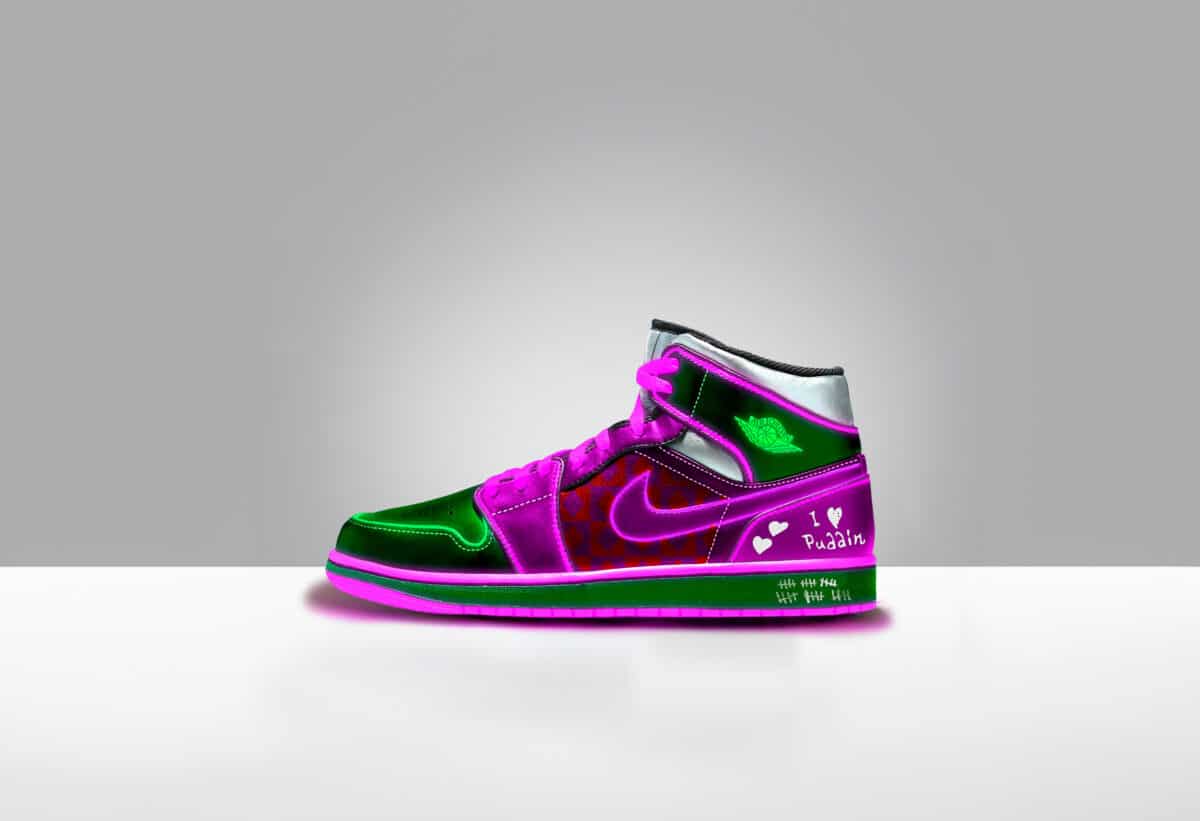 Much like the characters they are inspired by the "Mad Love" sneaker beautifully intertwines chaos with charm, pushing the envelope of what is considered ordinary. A truly unforgettable pair of kicks, they merge the iconic Air Jordan 1 Mid silhouette with hints of the vibrant colour palettes associated with the popular villain's aesthetic in the anti-hero action film.
These Air Jordan 1 Mid "Joker and Harley Quinn" sneakers give centre stage to a colour scheme that vivaciously spotlights the frenzied love between Joker and Harley Quinn. An energetic green swathes the toe box, mudguard, ankle flap, and midsole, accentuated by a darker hue in a gradient effect. These hues are symbolic of Joker's iconic green hair which Leto wears slicked back in the film. A vivid magenta hue envelops the heel, Swoosh, eyestay, and outsole. This colour choice takes inspiration from the film's iconic advertising palette. You can find this hue on most posters and marketing materials. It reflects Harley Quinn's lively personality and is highly symbolic of her character in the film.
RELATED: Would You Cop These RoboCop Air Jordan 9 Sneakers?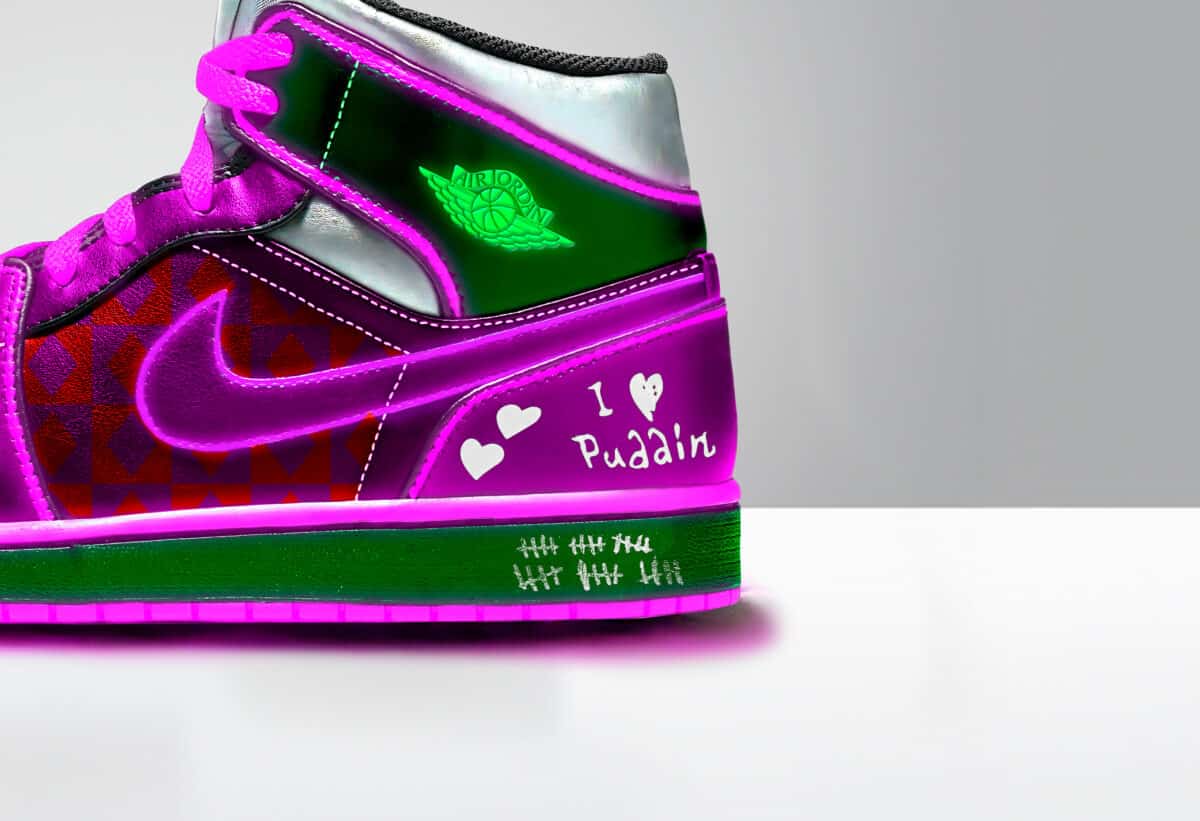 The silver tone clutching the collar hints towards Joker's silver suit in the movie. Dare I say they could even represent the super shiny grill the Clown Prince sports in the movie – but they don't. All these diverse hues combine to create a visually engaging contrast that seamlessly embodies both the characters. However, it's the intricate touches that steal the spotlight.  
Our favourites. Available now at Nike.com
The mid-panel sports Harley Quinn's signature diamond pattern, while the cheeky 'I love puddin' phrase entwined with hearts adorns the heel. The tally numbers on the midsole hark back to Joker's time in Arkham Asylum, where the enigmatic Harley Quinn crossed paths with him.
To complete this distinctive footwear design, the tongue tag displays Joker's iconic smile and 'HA HA' echoes, signifying his chaotic nature. Indeed, these sneakers offer a vibrant tribute to two of Batman's most infamous antagonists – Joker and Harley Quinn.
RELATED: Airwolf Comes Alive In These Nike Air Jordan 11 Sneakers
While we love happy endings, we know these two villains will forever be entangled in a twisted love story filled with madness and mayhem. Hopefully, these Air Jordan 1 Mid "Joker and Harley Quinn" sneakers see a better fate than our star-crossed lovers.  
Would you cop a pair of these Air Jordan 1 Mid "Joker and Harley Quinn" sneakers if they were released?
 Source: IMDB